INTERCEPT CU22 Masks
The INTERCEPT CU22™ mask set functionality comes from the unique properties of INTERCEPT copper. Copper has been tested and proven to kill bacteria and viruses through contact.
INTERCEPT CU22 Mask set includes:
Machine washable mask (black or white) with inside pocket
One replacement INTERCEPT CU22 filter
Two cord-stoppers
INTERCEPT storage bag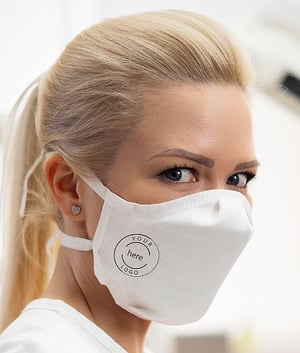 Here's how it works:
Droplets containing bacteria and viruses adhere to the inner INTERCEPT CU22 layer and are killed through contact.* This active copper barrier provides the highest possible protection against corona and other viruses, and bacteria.

*ISO 18185 tested. JIS Z 2801 tested.
Stop the spread of viruses.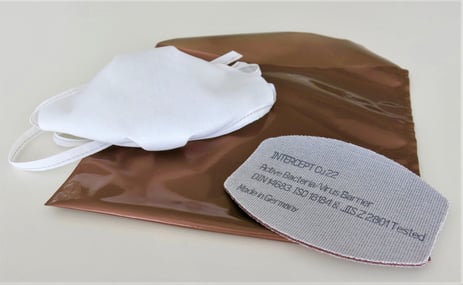 INTERCEPT CU22 masks protect you and your employees *
*Intercept CU22 Mouth-Nose Mask filter has been tested for filtration protection and active virus/bacterial killing performance, including coronavirus.
The INTERCEPT CU22 Mask Tie Straps with Pull Cord.
The high-performance air-permeable materials provide a dependable oxygen supply, resulting in less user fatigue.
Custom colors, logos available upon request. Minimums apply to custom mask orders.
Intercept CU22 Filters can be used in any mask that has an inside pocket.
Contact us for more.