RIBS MVTR
RIBS MVTR is a combination of two inventions that provides a reusable or one time use "complete" package with:
Permanent electrostatic (ESD) protection
Full metal out shielding (EMI) protection
Corrosion protection
Moisture barrier

RIBS MVTR makeup is a heavily metalized flexible durable film laminated to a coextruded polyethylene film containing a single layer of two materials with distinctly different protective properties. The inside layer of the coextruded film is Intercept Technology™ which is static dissipative and nonsloughing polymer, which also provides a membrane over the trapped carbon plastic layer.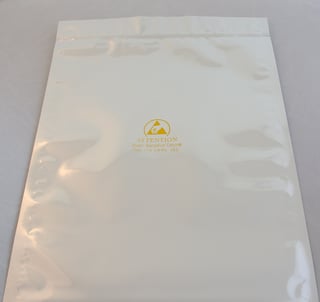 The resulting film provides four functions:
A pathway for electrical charges to flow through the membrane to the conductive layer.
A pathway for free organic ions to flow through the membrane to be absorbed by the carbon.
A pathway for free inorganic ions to react with and be neutralized by Intercept in the membrane
A metalized polyester for ESD shielding with
RIBS MVTR is ideal for the most sensitive of products including but not limited to: electronics, optics, moisture-sensitive products, delicate tools and equipment. RIBS MVTR is non-volatile, clean and safe.
Available in 3.5 mil thickness as rolls, sheets, shrouds and bags; custom sizes. Custom gauges are also available; contact Liberty for more information
RIBS Shielding may be heat sealed and/or vacuumed if deemed necessary by the user. Various closure methods are available.
In contrast to other most other Intercept products, RIBS is non-recyclable, but does have a low carbon footprint due to re-usability.
For MSDS and Specification Sheet please contact us.