RIBS Ultra
RIBS MVTR Ultra is a combination of two inventions providing a reusable or one time use "complete" package with:
Permanent electrostatic (ESD) protection
Permanent full metal out shielding (EMI) protection
Corrosion protection
Moisture barrier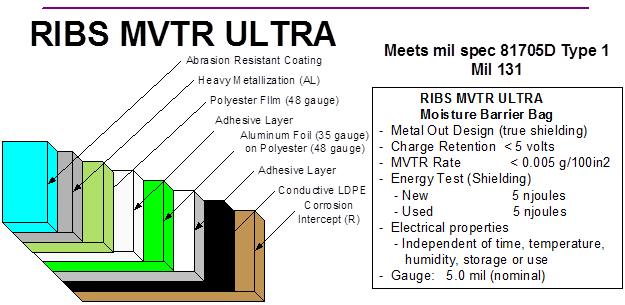 RIBS MVTR Ultra makeup is a heavily metalized flexible durable film laminated to a co-extruded polyethylene film containing a single layer of two materials with distinctly different protective properties. The inside layer of the co-extruded film is Intercept Technology™ which is static dissipative and non-sloughing polymer that also provides a membrane over the trapped carbon plastic layer. The resulting film provides 4 functions: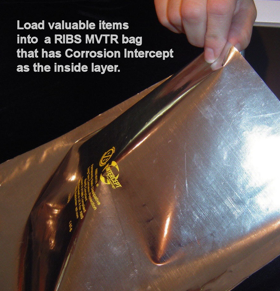 A pathway for electrical charges to flow through the membrane to the conductive layer.
A pathway for free organic ions to flow through the membrane to be absorbed by the carbon.
A pathway for free inorganic ions to react with and be neutralized by the Copper in the membrane
Two metalized polyester layers provide EMI and ESD shielding and moisture barrier protection.
Available in 5 mil thickness as rolls, sheets, shrouds and bags; custom sizes. Custom gauges are also available; contact Liberty for more information
RIBS Shielding may be heat sealed and/or vacuumed if deemed necessary by the user. Various closure methods are available
In contrast to other most other Intercept products, RIBS is non-recyclable, but does have a low carbon footprint due to re-usability.
For MSDS and Specification Sheet please contact us.