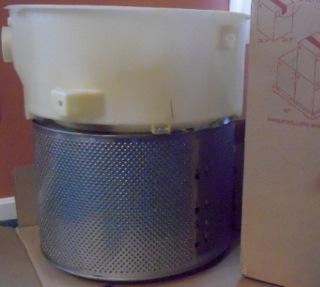 Two servicemen showed up at 10 a.m. and opened the three large boxes of washing machine replacement parts that had been decorating our living room for a week. The protective packaging consisted of a corrugated three foot cube box - no inner packing materials; some loose corrugated supports - no bubble wrap, no newspaper, no packing peanuts, no air pillows - nothing to cushion the item inside. Evidently, a simple corrugated carton could not withstand whatever treatment it received in the warehouse and during shipment. The rigid nylon bearing tub part, essential to the job, was cracked on two sides - not usable.
The servicemen wisely inspected the delivered parts before tackling the washing machine repair project. Unfortunately, due to the bad packaging, the new bearing was broken - it was evident that the carton had been compromised on two sides. Our intrepid servicemen were now required to call around for any local supplier that might have a famous brand front-loader spare bearing tub on hand. After 30 minutes on the phone, one was located. These conscientious workers then drove an hour, rearranged appointments (likely an inconvenience for those customers), and sent more defective parts into the landfill. The not-useful packaging needed to be discarded also; now twice!

We're grateful we had the presence of mind to extend the service contract on this four-year-old washing machine, as this job required $800 worth of parts, plus the labor of these two gentlemen not including the drive to retrieve the replacement for the broken replacement part. They were back by noon and had the washer operating smoothly in just over two hours (good guys, Fred and Arnie from A&E Repair).

This seems a classic example of a manufacturer creating more waste by using less packaging or incorrect packaging. And it affects product reliability in ways we may not even notice. What if the part was only lightly damaged and the servicemen were unaware of that and installed it into the washer today, only to encounter a defect that would affect the whole life of the machine down the road?
Obviously, this situation was not cost effective for Whirlpool. It's a double whammy. If one were to measure the total carbon footprint of this repair job, I'm sure it would be equally wasteful as compared to dollars spent. I wonder how often this scenario is repeated when manufacturers skimp on packaging.
Intercept Technology Packaging products fit within a sustainability strategy because they are reusable, recyclable, do not contain or use volatile components (No VOCs, Not a VCI) and leave a smaller carbon footprint than most traditional protective packaging products.