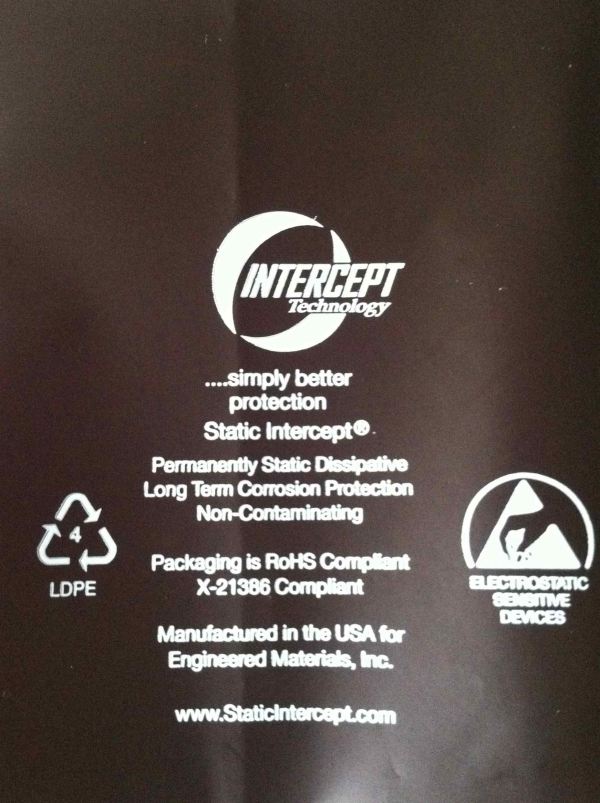 Aren't all anti-corrosion packaging materials the same?
No. Barrier protection products work in vastly different ways. The Intercept Technology line of products protects in two ways. First, they act as a moisture barrier. Second, Intercept reacts with and permanently neutralizes corrosive gases to form a corrosive gas barrier. This dual form of protection eliminates the two elements needed to form atmospheric corrosion. Intercept's mechanism for protection is sacrificial, therefore, it won't contaminate the product it's protecting. The typical "waterproof" or vapor barrier bag/shroud concept is to attempt to keep the atmosphere and/or relative humidity from the protected product; whereas the emitting protection products, packaging and canisters, will surround the product with a volatile vapor. More...
Are desiccants needed with Intercept products?
Yes and no. If there are no large voids in the package, then the Intercept will react with the corrosive gases within the package and eliminate the potential danger without desiccating. However, if there are large voids that don't allow the Intercept material to be close to some areas, then it would be best to utilize desiccants, making sure that the desiccants are not directly touching metals. Please consult with us for your recommended usage.
Read More