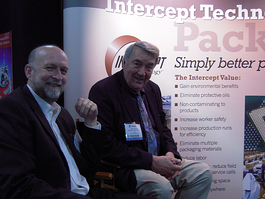 We spent three days on the trade show floor at EASTEC 2011 last week and had a blast. EASTEC is hosted by the Society of Manufacturing Engineers, and is the largest manufacturing trade show on the East Coast. It was the most fun I've ever had at an event like this. Our philosophy on trade shows is that attendees are there to learn about new products, machinery, techniques, and procedures. We, as an exhibitor, are there to ask questions of those who may have challenges with corrosion or ESD and want a new oil-free and environmentally safe solution with packaging.
With that in mind, our approach was to ask the question to passersby: "does corrosion or rust keep you awake at night?" or "do you worry about corrosion or rust on your job?". We received some funny responses, and many people were absolutely stopped in their tracks by the question, but willing to share their concerns.
Here is our "EASTEC in a nutshell" video - a brief 57 seconds showing the action around our Booth 3306. Thanks to all who visited; please let us know how we can help.
Intercept Technology Packaging products fit within a sustainability strategy because they are reusable, recyclable, do not contain or use volatile components (No VOCs, Not a VCI) and leave a smaller carbon footprint than most traditional protective packaging products.