When manufacturers first learn of the benefits of Intercept Technology™ Packaging, they have questions about which form of Intercept will work best in their manufacturing or storage facility, or for shipping their parts or products.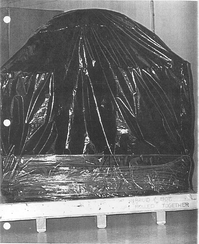 Many Intercept Technology Packaging users find that a simple Static Intercept bag, with or without a zipper closure, is perfect for their application. The product they wish to protect from corrosion, rust, ESD, degradation, may be a large machine or a very small part or something in between, but bags can be made in all sizes - some of which are ready on the shelf for purchase. Other sizes can be custom made for your application. All products should be clean, dry, free of finger prints. Place your product in the bag, roll up the bag and tape it closed. Large containments may require the use of desiccants within to initially dry out the inside.
Static Intercept protects manufactured products by neutralizing corrosive gases, is in the perfect static dissipative range, is clean and safe, is made in the U.S., is fully recyclable. This single material provides all these benefits. In this case, simple is definitely better.
If a bag or zipper bag does not work for your application, Intercept is available in many other forms including shrouds, shrink wrap, rolls, totes, and more. Please go to: our Materials Products page.
Intercept Technology Packaging products fit within a sustainability strategy because they are reusable, recyclable, do not contain or use volatile components (No VOCs, Not a VCI) and leave a smaller carbon footprint than most traditional protective packaging products.