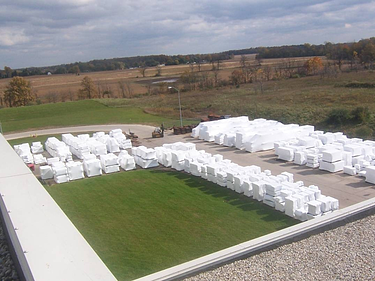 Manufacturers looking to contain costs often consider outdoor storage for unused items: large machinery and vehicles are often stored outdoors so precious warehouse space can be reserved for other items. With the right packaging, outdoor storage is the perfect cost-saving solution for many companies.
Outdoor storage requirements may vary, but companies who wish to maintain their equipment in good working order, reduce labor, and be a considerate of both their environment and their neighbors find Intercept Shrink Film to be the perfect solution. Here are some reasons why Intercept Technology Packaging works so well for outdoor storage:
Prevents corrosion, meaning no rusty runoff into storage yard or nearby areas, and your product is ready for use when you need it
Easy to apply
Intercept Shrink Film is a strong, long-lasting, multi-layered film providing moisture barrier and UV protection in addition to the corrosion prevention properties.
Big savings using outdoor space rather than expensive warehouse space
Bottom line: one material, multiple benefits for outdoor storage solution.
For a case study on outdoor storage using Intercept Shrink Film, please see our story: Shrink Film Solves Outdoor Storage Problem, Saves Time, Money, and Improves Image for Metal Fabricator.
Intercept Technology Packaging products fit within a sustainability strategy because they are reusable, recyclable, do not contain or use volatile components (No VOCs, Not a VCI) and leave a smaller carbon footprint than most traditional protective packaging products.