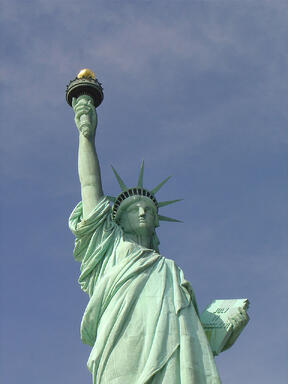 We think the invention of the Intercept Technology packaging product line makes for a pretty nifty story. Like so many inventions, Intercept packaging materials came from a project that was started to solve a problem otherwise unrelated to its current use, which is to eliminate the challenges of rust, corrosion, and ESD on metals and electronics.
Intercept was a serendipitous artifact of the Statue of Liberty restoration. Prior to his Intercept Technology invention, John Franey of Bell Labs was a lead copper corrosion engineer in the Statue of Liberty restoration project. The challenge for him was to make the newly-replaced panels on the statue match the beautiful green copper patina of the older panels. During this project, Franey developed a uniform patina seeding transplantation process for Lady Liberty to be applied onto her new copper panels. In a matter of weeks the clean copper panels were transformed into copper panels with a magnificent natural patina green. This patina typically takes 30 years of natural aging to color. By using a reversal process of this seeding, Intercept Technology was created.
Intercept Technology packaging is now used to protect parts and machinery world wide in the oil and mining, aerospace, automobile, medical imaging, and electronics industries, to name just a few.
In this Bell Labs video, inventor John Franey talks about Static Intercept and what makes it a superior packaging material:
Intercept Technology Packaging products fit within a sustainability strategy because they are reusable, recyclable, do not contain or use volatile components (No VOCs, Not a VCI) and leave a smaller carbon footprint than most traditional protective packaging products.