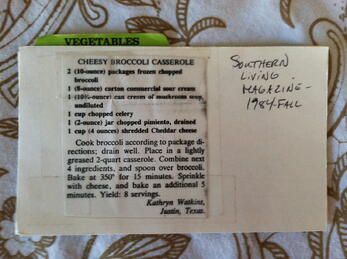 Most people appreciate a well-tested recipe. For that reason, I'm happy to share the recipe depicted at left, which was submitted to Southern Living Magazine by a Texan named Kathryn Watkins in 1984, and tested to be delectable by me and my dinner guests many times over. It would be a rich and delicious addition to your Thanksgiving (or regular day) table.
Speaking of great recipes, many years ago, during the Statue of Liberty restoration, John Franey of Bell Labs concocted a formula involving the embedment of copper into a polymer matrix, and behold, Intercept Technology Packaging came into being! For items protected within Intercept packaging, the copper particles permanently neutralize corrosive gases, protecting the product within from corrosion and rust. There is no outgassing (unlike some traditional corrosion protection materials) and Intercept works for short or long-term. In process, storage, shipping, import, export - Intercept has a track record in many industries across the globe. And, most forms of Intercept material are recyclable. Intercept Technology Packaging can help you eliminate protective oils from your operations and it does not require vacuum sealing.
The Intercept Technology packaging recipe could be a winner for your operation - let us know how we can help.
Intercept Technology Packaging products fit within a sustainability strategy because they are reusable, recyclable, do not contain or use volatile components (No VOCs, Not a VCI) and leave a smaller carbon footprint than most traditional protective packaging products.