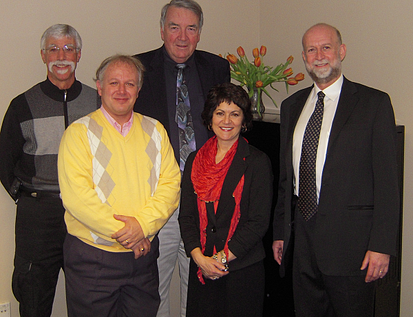 By now you may have sensed the recurring theme of our recent posts, that of enthusiasm. This guest post by returning guest blogger Albert Greenhut, of EMI, hits the nail right on the head. Credit Albert for the photo of our enthusiastic sales team, at left.

Going from the high energy, high activity, and steady thump, thump, thump of the bag making machines to the muted skepticism and hushed conversations at the start of a sales meeting was a study in contrasts. The bag machines kept that steady beat going, no interruptions, no thoughts of anything but doing the job, making the bags, getting it done. The sales meeting, by contrast, was designed to see if that same dedication to getting the job done could be transferred to people, instead of transfer of film through the dancer rolls, the goal was training and a transfer of enthusiasm to the people. Joe Spitz and John Murphy both verbalized that at the beginning of the Liberty distributor training session: sales is the transfer of enthusiasm.
The best way to get our new sales group excited was by comparing industry standard rates of packaging against the success stories of Intercept. The statistics proved the point, but fell far short of fully galvanizing our troops. The story that turned the tide was that of VW saving over 24% on their South Africa-manufactured engine blocks, and at the same time winning an environmental award. By the looks on their faces you could tell that the sales people were slowly dropping their "it's too good to be true" skepticism. The anxious tics of feet tapping and the like dwindled, then stopped. Attendees had their eyes glued to the speaker and slowly I could see the light bulbs start lighting up: "who on my customer list will relate to this story?"
I remember from my days as a student: most of the time the kids would rush out of class moving onto recess or something more exciting. That did not happen here. The presenters were mobbed afterwards. Salespeople seeing the need for consistent and dependable packaging wanted to pick our brains for all the different applications they knew their customers had.
We believe in a no pressure meeting, no need to bully people into sales. Our mentality is that if you'll give us time and an open mind we can show you the utility of our products, we can work together to better serve your needs. This time that philosophy was a success because you could see the enthusiasm on the faces of the salespeople as they thanked us and left the meeting; ready to transfer that enthusiasm to their clients.
Intercept Technology Packaging products fit within a sustainability strategy because they are reusable, recyclable, do not contain or use volatile components (No VOCs, Not a VCI) and leave a smaller carbon footprint than most traditional protective packaging products.