The following piece is from the Intercept Technology Group international news page:
A Baldor motor manufacturing facility in Kings Mountain, North Carolina, US, was recently acquired by ABB. The Baldor facility had a business model that primarily focused domestic distribution. In the past the plant had used a combination of no protection, or traditional preservation wrapping methods because there were few constraints on a relatively short shipping cycle. Given the fact that international shipping takes longer, a more robust packaging solution was needed. With that in mind ABB has standardized its international shipping and has decided to use INTERCEPT Technology™ exclusively.
When ABB acquired this plant it was forced to update its standards to handle an increasing amount of international shipping. This meant that this plant had to become proficient in using of INTERCEPT Shrink Film to comply with ABB's shipping procedures. The following pictures are of the training of the packagers to transition to use INTERCEPT®. They depict a two man team laying the INTERCEPT Shrink Film on a pallet, dropping the motor onto the pallet, wrapping the film, and heat shrinking the film. A two man team can accomplish this pack out in mere minutes. The benefits of this transition to INTERCEPT® are seen in the photos in the form of minimizing labor hours in the pack out procedure, elimination of oiling at departure, de-oiling upon reception, and rework and returns of parts due to corrosion and degradation in transit.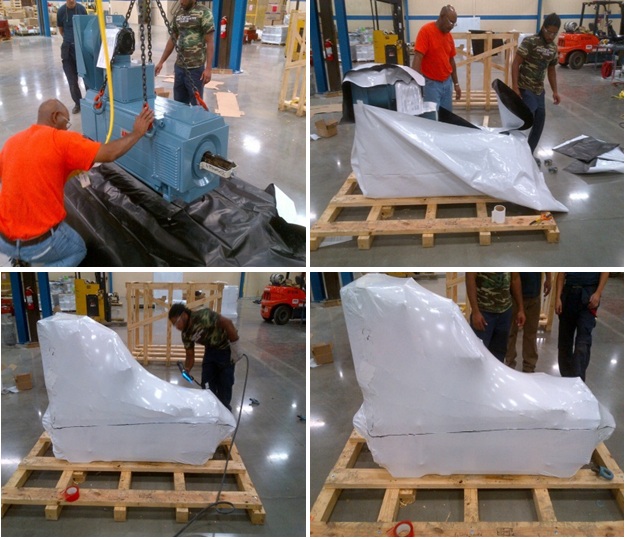 The result is a robust packaging that provides complete protection for the motor against rust, deterioration and degradation during the rigors of international shipment via sea freight, the ability to store the product at its destination or in an interim location for months or years, complying with all European packaging regulations. ABB Sweden actively promotes the change to INTERCEPT® due to their substantial savings and increased protection that has been achieved.
Consult our specialists for the right INTERCEPT® application for your system.
Intercept Technology Packaging products fit within a sustainability strategy because they are reusable, recyclable, do not contain or use volatile components (No VOCs, Not a VCI) and leave a smaller carbon footprint than most traditional protective packaging products.