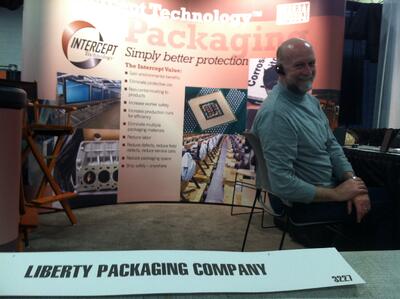 We were energized during our time as exhibitors at EASTEC 2013 in Springfield, MA, last week. Building 3 of the facility was abuzz with innovation. Interested attendees, asking all the right questions, flooded the floor for all three days, including representatives from small and large manufacturers, local and international companies. The show truly lived up to it's tagline "human ingenuity, manufacturing brilliance". If you're involved in industry in the Northeast, or want to be, we recommend you get involved with EASTEC, sponsored by SME.
Exhibitors filled four buildings on the grounds of The Big E (formerly known as Eastern States Expo), and activities included a keynote discussion of "Challenges and Solutions for the Workforce Pipeline", a student program, robotics, cleaning, cutting and maching, filtrations systems and so much more. It was great to see our old friends from Manufacturers Mart publishing and meet new ones from ThomasNet, freight logistics services by Cerasis, and 3D imaging by Faro. Did we mention the pizza?
Our team gave away many samples of Intercept Technology Packaging so folks could take a look at it and learn more about cost savings with this wonderful plastic packaging. Here's a quick look at the action around Building 3 and especially the fun-tastic aisle where our super-salesman, John Murphy, held court at Booth 3227:
Learn more about Intercept Packaging here:
Intercept Technology Packaging products fit within a sustainability strategy because they are reusable, recyclable, do not contain or use volatile components (No VOCs, Not a VCI) and leave a smaller carbon footprint than most traditional protective packaging products.