Introducing Intercept Technology "corrosion protection" message yellow tape. The purpose of this tape is to be wrapped around the finished Intercept package informing anyone who sees it that the product inside is protected from corrosion. The message is printed on the sturdy, high tack, high visibility yellow plastic tape which has the Intercept Technology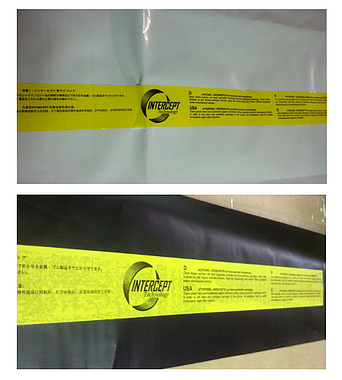 logo printed on it followed by a message in 6 different languages: English, German, French, Spanish, Japanese, and Chinese. The message reads: "Attention - Intercept corrosion protection packaging. These goods have been protected against corrosion using a protective packaging method. In order to not have any corrosion damage to the goods, the packaging must be sealed immediately again after opening."
This tape can be used for sealing cartons with Intercept packaging inside and/or many companies have wrapped it around the perimeter of their goods, mostly larger wrapped items, as a reminder that special precautions have been made to keep the products inside pristine and protected from environmental damage.
In conjunction with the tape message, all stock Static Intercept bags and custom made bags have the ESD sensitive logo, #4 LDPE logo and capabilities message of "Permanently Static Dissipative", "Long Term Corrosion Protection", and "ROHS compliant" messages printed or hot stamped on them. There is also a contact information web page include.
Your customers and all who handle your products may not have realized the commitment and effort made when you selected the Intercept Technology. They may not be aware of the extra care you exerted in selecting Intercept barrier packaging for your products. Intercept Technology has many wonderful capabilities, which include protecting your hard-earned products from degradation due to:
•corrosion
•electrostatic discharge
•mold, mildew, and fungus
•even inhibits insect penetration and nesting.
The purchase and application of this tape can alert others of that commitment you made. Be sure your message is understood, by adding Intercept message tape to your Intercept Packaging protected items.
Intercept Technology Packaging products fit within a sustainability strategy because they are reusable, recyclable, do not contain or use volatile components (No VOCs, Not a VCI) and leave a smaller carbon footprint than most traditional protective packaging products.