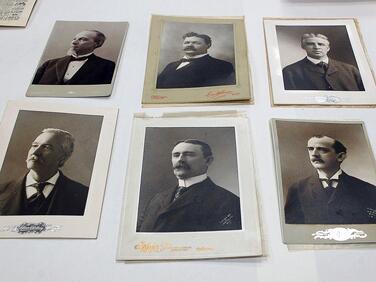 The objects inside the 1901 time capsule found in a wooden lion sculpture at the historic state house in Boston were finally examined after having been brought to a climate-controlled room. Members of the Bostonian Historical Society were on hand to inspect the contents with the delicacy, scrutiny and context only historians can provide. Brian LeMay, President of the BHS, told NPR's Audie Cornish, "The striking thing about the contents is how good condition they seem to be. So the stuff inside of it seems to be brand-new. It's as if it was put in there yesterday and has somehow reached us from a century ago in exactly the same condition that it is now."
While the pristine condition of the contents (including the above photo of City and State elected officials) may have come as a surprise to Mr. LeMay, those who have an understanding of the construction of the time capsule box would have expected this performance. The capsule was made from copper, a metal with incomparable preserving power. It is copper's natural reaction with the corrosive chemicals that cause degradation which gives copper this amazing ability. Copper also has anti-microbial and anti-fungal properties, perfect for keeping mold and mildew off books, papers and old coins for over a century.
Intercept Technology™ uses the same principle of preservation as the time capsule. Intercept materials are made from copper embedded into a light-weight, flexible packaging, perfect for protecting items in short or long term storage from:
The versatility of Intercept plastic packaging means it can be made into bags, shrouds, rolls, sheets, totes, lids, trays, containers, inserts and custom packaging.
PHOTO: Photographs of city and state elected officials, including Boston Mayor Thomas Norton Hart at top left, are displayed after they were taken from a 1901 time capsule in Boston. Bostonian Society/AP Photo.
Intercept Technology Packaging products fit within a sustainability strategy because they are reusable, recyclable, do not contain or use volatile components (No VOCs, Not a VCI) and leave a smaller carbon footprint than most traditional protective packaging products.