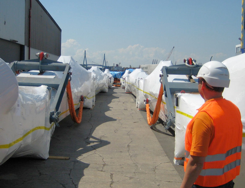 As a founding member of the worldwide trade association Intercept Technology Group, Liberty Packaging has a wealth of information to share when it comes to industrial packaging, corrosion, electrostatic discharge, insect inhibition, and shrink wrapping. Our Intercept group includes many talented people from varied industrial backgrounds, all willing to share and contribute to help companies from all across the globe solve problems, increase their product reliability, decrease costs, and hence improve your company's profits or help meet difficult budgets.
That is certainly the case with our colleagues in Australia. Over the years through their newsletters,they have shown many application studies where they and Intercept packaging has provided invaluable service to their customers, many being well known companies. The stories can be fascinating as to how Intercept solved problems for these companies and products, such as:
GE Oil & Gas corrosion protection specifications
GE Rail equipment - locomotive engines
Ford engine blocks
Volkswagen environmental award
Nuclear equipment
Areva
Armored military cabs
military Humvees
military portable bridges
Amtrak trains
Chevron's quarantine program to prevent insects infestation - Barrow Islands
helicopters
Raytheon
Caterpillar
Corus Steel
power equipment
turbines
seismic vibrators
automotive parts
automotive plant decommission
NASA
telecommunication equipment
airplane wings
missiles and rockets
much more
As you can see by the list of projects that Intercept was utilization is extensive and varied. Liberty Packaging is pleased to present these newsletters dating back to 2003 for you to see what, where, why, and how Intercept can help your business.
Intercept Technology Packaging products fit within a sustainability strategy because they are reusable, recyclable, do not contain or use volatile components (No VOCs, Not a VCI) and leave a smaller carbon footprint than most traditional protective packaging products.