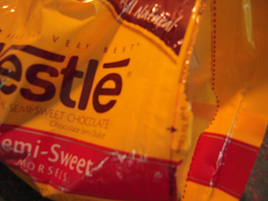 There's much experimentation going on in the packaging world. Focus on the environment and sustainability requires reworks, better materials, and enhanced features in retail and industrial packaging to ensure the highest freshness and viability of products during shipping, storage, and in use.
Today's discussion centers on zip closures used on retail food packaging. Here are two examples I found in my kitchen today.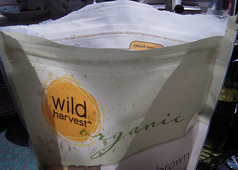 I recently purchased a 72 ounce bag of Nestle® semi-sweet chocolate bits for baking. That's a lot of chocolate chips that won't get used right away, so proper closure is important for long-term freshness. Nestle has used ZIP-PAK® Barrier INNO-LOK® resealable zip-style packaging and it's a winner. Easy to open without tearing the bag, and equally simple to reseal. Two thumbs up.
We enjoy Wild Harvest™ brand Organic Light Brown Sugar, grown using sustainable farming methods. The product itself is of high quality. Wild Harvest prints instructions on the bag to "reseal ziplock bag and store organic light brown sugar at room temperature." Good advice, and while the zipper on this package is much less intricate than the one on the Nestle package, it serves the purpose of keeping your brown sugar fresh for weeks or even months.
Please share your finds on good or bad packaging.
Intercept Technology Packaging products fit within a sustainability strategy because they are reusable, recyclable, do not contain or use volatile components (No VOCs, Not a VCI) and leave a smaller carbon footprint than most traditional protective packaging products.