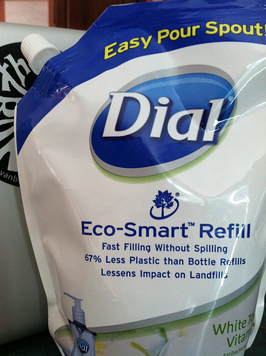 I asked Simon Twilley of Pack TV to supply me with a blog post topic. His quick answer was this: "Protective Packaging, the unsung hero of Consumer Packaged Goods, or Fast Moving Consumer Goods". While his alternative title, "Why All That Arty Farty Brand Stuff Would Never Get To The Shelf Without Protective Packaging" was a bit tongue-in-cheek, the topic is valid, as new materials, converting methods, printing, and labeling flood the consumer marketplace.
Although our primary focus at Liberty Packaging is anti-corrosion protective packaging for industrial applications, we love packaging of all kinds and enjoy hearing about and trying out new retail packaging applications.
I'd say the biggest leap in terms of freshness and convenience in the past few years is in the produce section. There are many more choices: delicious varieties of lettuce, unusual strains of potatoes, exotic fruits like starfruit, off-season items like strawberries, combo-packs of broccoli, carrots and cauliflower or other choices - many of these are ready for microwave steaming right in the package or can be placed directly into the serving bowl and on the dinner table.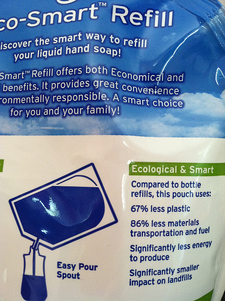 Another major area of innovation is seen in the household products aisle. Cleaning products abound, and the packaging continues to evolve in terms of refill sizes of window cleaners, dishwashing liquids, hand soaps and the like. Some of these items are newly available in laminated flexible pouches with nozzles, so they weigh less, use less plastic and just make more sense for the environment. The featured item in the photo above was previously only available in a rigid container - this new flexible pouch now contains "67% less plastic than bottle refills, lessening impact on landfills". It's a nice idea and the pour spout works well. According to the label the pouch uses "86% less materials, transportation and fuel, and significantly less energy to produce" than the previous rigid plastic soap refill containers. It's a winner, and I think other household product manufacturers will quickly follow suit.
Great new choices are appearing weekly in a supermarket near you - we'll certainly address this topic again. Bottom line: protective packaging IS the hero, bringing us safe, fresh, convenient consumable products every day - making our lives better.
Be sure to share your thoughts and favorite retail packaging products with us here.
Related posts:
Good Packaging: Today's Examples
Packaging - More Than Meets the Eye
Packaging Waste - Meet Bag Monster
Intercept Technology Packaging products fit within a sustainability strategy because they are reusable, recyclable, do not contain or use volatile components (No VOCs, Not a VCI) and leave a smaller carbon footprint than most traditional protective packaging products.