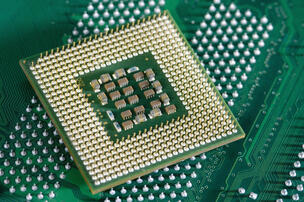 We're often asked: when considering Intercept Technology heavy duty flexible film barrier packaging for the storage and/or shipping of electronics, which product would be best? Intercept barrier protection is currently used for all sorts of electronics such as complete equipment, circuit cards, printed wire boards, chassis and frames, even the most sensitive devices and chips.

Here are three Intercept materials that protect electronics:
Static Intercept® is a static dissipative mono-layered polyethylene flexible film.
Static Intercept is a non-volatile corrosion inhibitor and fungus for all metals, rubbers, plastics, and other materials.
Tests conducted by Bell Labs show that Static Intercept can protect class 0 devices; having a turn-on potential of less than one volt.
Static Intercept is a clean material, having passed numerous Non-Volatile and Particulate test protocols. SI can be processed for clean room use.
Stock bags are available; many custom sizes and configurations are available.
Summary: Static Intercept is the most widely used Intercept material. SI is versatile material and readily available. Static Intercept is the best place to start; it may be all you will ever need for your product protection.

ATCI is a static dissipative translucent polyethylene flexible barrier film for medium duty situations.
ATCI will protect against corrosion and fungus on all metals and materials.
ATCI is available in low special order quantities.
Summary: ATCI has price advantages over Static Intercept and products can be seen inside - minimums order required.
RIBS MVTR and RIBS Ultra are the "Best in Class" moisture, corrosion, fungus, and shielding barrier films.
RIBS materials have all the clean and corrosion qualities as Intercept is used as the inside layer of a five layered flexible film structure.
RIBS will meet U.S. Military packaging specification DTL- 117J, MIL-PRF-131K, and MIL-PRF-81705D.
RIBS MVTR is for medium duty applications and RIBS Ultra for heavy duty needs.
Summary: RIBS products are foil structures so they will be recognized as traditional barrier films except RIBS have all additional properties of Intercept products. Relatively small quantities of bags, shrouds, and rolls can be ordered.
Intercept Technology Packaging products fit within a sustainability strategy because they are reusable, recyclable, do not contain or use volatile components (No VOCs, Not a VCI) and leave a smaller carbon footprint than most traditional protective packaging products.