Intercept Technology™ barrier packaging has found many markets internationally, particularly in Europe. Bell Labs invented Intercept heavy duty barrier bags and films to help them solve problems with corrosion on the printed wire boards (PWB) metals. In the late 1980s, AT&T manufacturing, which later became Lucent and is now Alcatel-Lucent protected their PWB in Static Intercept barrier packaging which also has the properties of perfect static dissipation protection (ESD - electro-static discharge).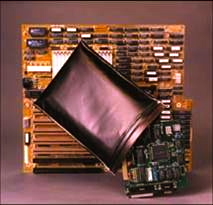 As for the European connection, I recently learned of German manufacturer, Würth Elektronik Circuit Board Technology, who uses Static Intercept packaging for its electronics. Specializing in the manufacturing of circuit boards in small to medium-sized orders, with over 1,000 employees, Wurth Electronik is now using Static Intercept barrier protection for PWB. Every day, 350 different circuit board designs go through Würth's production line. Würth Elektronik will be shipping all chemical silver surface printed circuit boards in Static Intercept® anti-corrosion film - the first of their product line to use this packaging technology.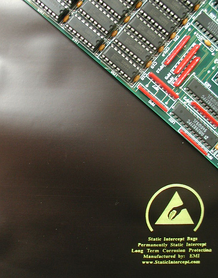 Wurth's website features an intriguing story of their use of Intercept Technology. Making a fresh food and vegetable analogy, they state: "Thanks to the packaging solution - the INTERCEPT® film - you will never have seen silver printed circuit boards as fresh as these before"...This black film is not just an ordinary film, it protects printed circuit boards from long-term corrosion and environmental influences during both transport and storage, thus maintaining their freshness." Wurth Electronik is the client of one of our counterparts in Europe, but this glowing testimony is one we happily share.

Intercept packaging products have found many applications in the manufacturing world to include metals protection in such industries as automotive, aerospace, oil and gas, mining, and export barrier packaging; it's nice to see worldwide companies using Static Intercept for one of its original intentions: the protection of electronics.
Intercept Technology Packaging products fit within a sustainability strategy because they are reusable, recyclable, do not contain or use volatile components (No VOCs, Not a VCI) and leave a smaller carbon footprint than most traditional protective packaging products.