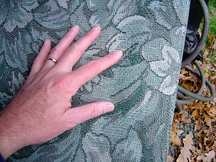 I am curious to know if anyone else suffers from a love/hate conflict with home improvement stores. I love visiting my local home improvement store, browsing all the terrific items, finding products to solve immediate problems and gathering ideas for my dreams of more atheistically pleasing convenience. My aversion lies in that there was once a time, not so long ago, when a home improvement store visit cost a $35.00 minimum. Now it seems to be $85.00. In fact, today's purchase of two bags of lime, three small types of fertilizer, two cans of ant guard with tax totaled $87.50. This post is not meant to be a complaint, but is a perception based on my own experiences as a home owner for 26 years. More importantly, this story is about the changes I have made so that I frequent these stores less. Of course, most homeowners know that goal is difficult because the more things accumulated in our homes, the more items require maintenance, repair, and replacement. I have made the decision to protect my items so they don't fail.
Since I have the advantage of representing the heavy duty, flexible film, barrier packaging, Intercept Technology, I have used some of the corrosion and fungus protective Intercept on items within my home; to save them, to protect them, to increase their life so I don't have to replace them and make another $85.00 visit. Liberty Packaging sells the Intercept packaging to numerous companies in the United States for the protection of their industrial goods. Intercept has allowed many manufacturing companies to ship and store products safely anywhere in the world. Because of my home use for unusual applications, I am becoming Intercept's best proponent. Let me give you an example.

We have a 10-year-old fabric lawn/lounge chair, quite comfortable to lie out in the backyard to gather some sun now and then. When storing the chair for the winter, I always placed it under the open-board back porch, under a blue tarp weighed down by old rubber car mats. When pulling it out of storage in years past, I found the mold and mildew so heavy on the fabric that it took a number of cleaning applications with a strong detergent in order to make the chair presentable. This method seemed like it was becoming more of a chore each Spring as the chair's fabric aged. Certainly, the harsh cleaning had robbed some of its vivid coloration, but also I noticed the fibers were becoming weaker. It was getting to a point where the fabric looked dingy even after the cleaning where we would not be comfortable lying in it, especially when in a bathing suit. Was it time to throw the chair away and buy a new one?

I decided last Fall to place a sheet of Intercept plastic film in-between the fabrics as the chair was folded with the back portion over the bench. Then, just as in past years, under a leaky blue tarp, with the same old car mats holding everything in place.

When uncovering the chair for this year's Spring cleanup I was concerned that I had not angled it with a proper tilt so that the water getting through the tarp and the condensation would roll off, because there was quite a bit of standing water (see photo below left) both on the Intercept film and the fabric. However, as I unfolded the Intercept, the results were startling: there was no mold, mildew or fungus of any sort on the fabric. Based on those results, this will be another yearly application for the Intercept film. I can fold the film up, place it out of the way, then use the same piece again to protect the chair next Fall.

I will write about other home applications for which I have implemented Intercept protection in order to save money, such as: hobby train set, window fan, rotisserie motor, and, stored paints. Stay tuned.
Here is more on Intercept Technology mold, mildew and fungus protection.
And Intercept Technology Anti-Microbial Properties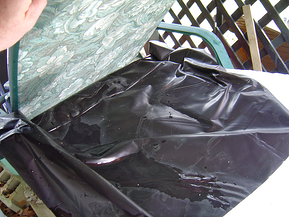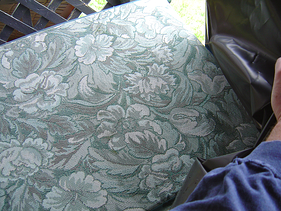 Intercept Technology Packaging products fit within a sustainability strategy because they are reusable, recyclable, do not contain or use volatile components (No VOCs, Not a VCI) and leave a smaller carbon footprint than most traditional protective packaging products.