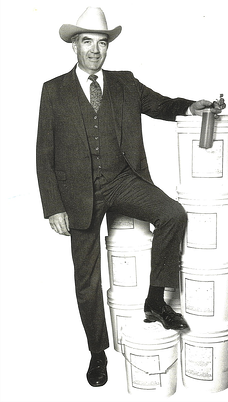 Today's post is from Liberty Packaging's Director of New Business, John Murphy, pictured at left during his days at Murnell.
Many years ago I took a considerable risk for our family business in hiring chemist Bill Drinan, away from the Butcher Wax Co., based on Bill's impressive know-how for formulating detergent and disinfectant compounds. I spent long hours studying saponification (converting grease and oil to soap), and the more I learned, the more business opportunities appeared with increasing frequency. Together Bill and I structured a program for manufacturers with the essentials for a successful detergent technology degreasing operation such as: effective products, the correct water temperature, the right dilution ratios, the best handling practices, the proper rinsing, clean solution preparation, and the right equipment. In doing so, I was setting my future, although I didn't realize it then. I just knew I needed to work hard enough to feed my six children.
When first starting down this path, I didn't understand the significance to my commitment, until the time the folks at an aerospace facility welcomed me as if I were the "Second Coming". Prior to the environmental concerns of modern industry, industrial processes were almost totally devoted to using petroleum distillate solvents for degreasing. The problem with this process was that many of these degreasers had fumes which were heavier than air, settling into the access pits beneath heavy equipment on factory floors, hence being sucked into the lungs of maintenance workers, potentially putting them to sleep, and at least on one occasion that I know of, never to wake up! It seemed as if other chemical companies were content with the status quo and did not see the important business opportunity of offering industrial consumers the option of water-based replacements. The challenge for me was how to change a mind-set that had gone on for decades, but I was determined to help change those dangerous degreasing practices.
In other situations, I assisted my customers develop in-house systems for separating oil from their wash water. For instance, Polaroid, then a giant in instant photography, needed to remove dyes in their colored-film making process, without taking apart the piping system and valves. We successfully custom-formulated a water-based detergent for that application. Another solution needed by Polaroid was to remove Manganese Dioxide in their battery division. We solved that problem and I even got them through the permitting process with the sewerage treatment people.
Of course, there were occasional setbacks. I distinctly remember trying to help a large defense contractor adapt a closed pressure washing system for cleaning gun barrels. The machine had been acquired from a sister company and no one seemed to know anything about it. We soon learned just how much foam can be generated under intense pressure through a long series of spray nozzles when a starting point for dilution is guess work!
I feel good to have spent most of my career on the forefront of industrial detergent cleaning which was both clean and safe. My enthusiasm in this area has led me to this wonderful packaging material, Intercept Technology. It took this type of product, new and disruptive of the status-quo, to get me out of retirement. Similar to my work with changing processes to safer water-based cleaning systems, Intercept barrier packaging allows personnel in packing departments to work with corrosion protection packaging materials that are clean and safe. Intercept has brought me back to helping people every day, something I spent my working career doing, and I love it.
Intercept Technology Packaging products fit within a sustainability strategy because they are reusable, recyclable, do not contain or use volatile components (No VOCs, Not a VCI) and leave a smaller carbon footprint than most traditional protective packaging products.