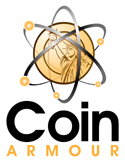 Liberty Packaging Co. is proud to announce that Coin Armour is now distributing Corrosion Intercept® bags for the protection of coins, paper money, documents, and comic books. Coin Amour has a consumer/dealer friendly web site in which to navigate and purchase products. The Coin Amour company is owned and operated by Chris Iannucci, a coin and comic book collector/dealer whose expertise in the field of numismatics was instrumental in the development of the Corrosion Intercept bag line for the preservation of collectibles that you'll find on the Coin Armour site.
The Corrosion Intercept anti-corrosion bags are conveniently sized for each collectible item, and all made with a clear front for easy viewing and easy open and close press zipper closure. Because the back side of each bag is made with the sacrificial corrosive gas reactive barrier, Corrosion Intercept, the inside of the bag becomes a stable inert micro-environment to preserve the coins, papers, comic books or whatever valuable the consumer wishes to store for many years, safely.
For the paper money and document/comic book bag, the clear front is made of UV protective film and since the Corrosion Intercept side is also a UV blocker, the protection for the items is complete; damaging and degrading corrosive gases, mold and mildew, UV rays are all inhibited. Corrosion Intercept protection is non-contaminating, unlike other forms of plastic barrier materials.
Liberty Packaging invites you to visit Coin Amour's beautiful web site and purchase these specially-made Corrosion Intercept products that will protect your collectibles from degradation for now and for the long term.
Intercept Technology Packaging products fit within a sustainability strategy because they are reusable, recyclable, do not contain or use volatile components (No VOCs, Not a VCI) and leave a smaller carbon footprint than most traditional protective packaging products.