From the desk of Adam Robinson, Marketing Manager, Cerasis Inc. Google+
There are many reasons why disruptive technology, such as the Cerasis Rater web-based transportation management software aid in tackling holistic freight costs. Much like packaging, and protecting your invaluable company products is a part of doing business, often, the next step is shipping your products via full truckload, small package, or less-than-truckload. Like packaging, you want to make sure that when you look at investing in transportation, no matter how you do it, you have to look at all the cost factors, not just the price you see from a carrier. Does the carrier get your product to the customer in time often enough? Do they have enough insurance to cover you in case of a damaged freight situation, and finally, what is the freight cost to actually ship that?
Much like before Expedia.com and the travel sites who now allow you to have peace of mind you aren't leaving money on the table and are selecting airlines and hotels who meet YOUR specifications, a good logistics company will provide a transportation management system to give you peace of mind you are choosing the best carriers for your freight, no matter what mode, or geographic location. And much like the advent of travel and hotel websites, you don't have to waste time processing the freight by calling several carriers, the technology easily matches you to the right carriers. There are many reasons why to purchase a Transportation Management System to tackle freight costs.
According to recent Peerless Research Group (PRG) surveys and feedback as published in the January 1, 2013, Logistics Management article, "Supply Chain Technology: Transportation Management Systems (TMS) gaining altitude," many shippers of freight, such as manufacturers and distribution companies, are seeing the benefits of both hard and soft freight costs savings when they deploy a TMS or freight management software.
The top reasons shippers plan to purchase a TMS or freight management software: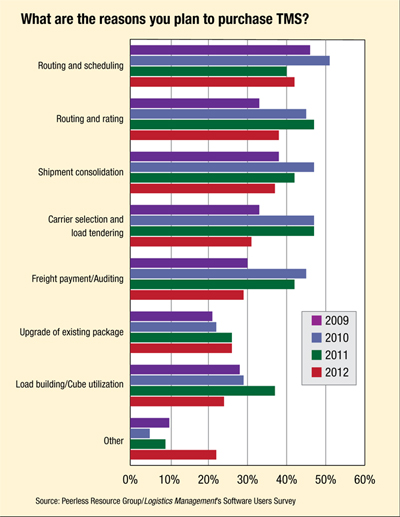 Routing and Scheduling: Shippers want automation in order to save
time and money spent on resources for processing freight shipments.
Routing and Rating: Shippers want to know how to best optimize their route to save money as well as get the best rate whether they ship LTL, Truckload or small package freight. A sound logistics or transportation arrangement provider, who

intimately works with carriers

on your behalf and then maintains those rates, will offer the most value.
Shipment Consolidation: Shippers want both

technology

and

people

to help ship freight more efficiently. To provide the highest freight costs savings, it's imperative you take advantage of the capacity crunch going on in LTL markets and leverage experience through a provider whom can help in drop-shipping, multiple locations, and proper freight accounting to organize it all efficiently.
Carrier Selection: When you are ready to ship, do you really want to go to several websites, put in multiple quote inquiries, and HOPE you chose the right set of carriers who will give you the best rates, transit time, and limit of liability? When you are onboard with a TMS, it needs to have the ability for you to choose, much like a travel website does for hotels, the carrier who best fits your needs.
Freight Payment/Auditing: Good TMS or freight management software technology has

freight accounting services

such as

freight payment

,

freight auditing

, and

freight invoice consolidation

. These systems, such as the Cerasis Rater, should also offer robust tools to analyze historical freight data and accounting in order to make future business decisions which further drive down costs.
If you are thinking about purchasing and implementing a transportation management system or making a change from your current TMS, contact Cerasis today or ask to receive a Cerasis Rater Demo from one of our Account Executives
Intercept Technology Packaging products fit within a sustainability strategy because they are reusable, recyclable, do not contain or use volatile components (No VOCs, Not a VCI) and leave a smaller carbon footprint than most traditional protective packaging products.