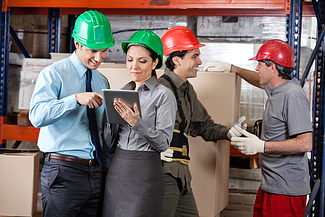 Safety in Manufacturing: Learn the Top 5 Safety Manager Responsibilities & Never Take Safety for Granted!
Want Safety In Manufacturing? Turn to the Safety Manager!
When it comes to safety in manufacturing, the safety manager is an employer's point man for worker safety. This means that the safety manager's responsibilities start with ensuring that all of the employer's OSHA (Occupational Safety and Health Association) mandated responsibilities are met. The following are five of the main responsibilities OSHA places on employers:
1. Provide a workplace that is free from serious safety and health hazards
Ensure that the workplace is monitored and is fully in compliance with all applicable OSHA standards, rules and regulations in order to maintain safety in manufacturing facilities.

Use labels, signs, posters, floor marking, and color coding to warn employees about potential hazards.
2. Monitor the workplace to ensure employees follow safety in manufacturing
Have and use safe tools and equipment.

Tools and equipment are properly maintained.

Ensure that Safety Standard Operating Procedures (SOPs) are maintained, and communicated to employees.
In addition, the safety manager is usually the person responsible for ensuring the company is in compliance with OSHA employer requirements. These types of requirements include:
Fatal accidents that result in the hospitalization of three or more employees, must be reported to the nearest OSHA office within eight hours.
If the company is not exempt, or partially exempt from the OSHA record keeping requirements, the safety manager ensures that records of work-related injuries and illnesses are maintained. To be partially exempt an employer must meet one of the following requirements:
Have ten or fewer workers, or

Be a type of business that OSHA has classified as a lower-hazard industry.

Ensure medical examinations and training are provided as required by OSHA standards.

Ensure the required OSHA poster is posted in a prominent location.

Provide the names of the authorized employee representatives, who may be asked to accompany an OSHA compliance officer during an inspection, to the OSHA compliance officer.

Ensure OSHA citations, and abatement verification documents, are posted at or near the work area where the accident happened. Each citation must remain posted until the violation has been corrected, or for three working days, whichever is longer.

Ensure any violations cited by OSHA as a result of an OSHA inspection are corrected by the deadline set in the OSHA citation, and submit the required abatement verification documentation.
3. Getting The Safety Responsibility Done
With the responsibilities of a safety manager encompassing such a broad range for safety in manufacturing facilities, how do they accomplish all of this? The following are some of the functions that are the responsibility of a safety manager, and that result in compliance with OSHA requirements. In larger organizations safety assistants will be responsible for some of these functions. In a smaller organization the owner, or HR manager, may be responsible for safety.
The responsibilities of a safety manager may include:
Participating in workplace safety and health planning meetings.

Ensuring managers and supervisors have the appropriate safety and health; accident prevention; and investigation training.

Ensure that managers/supervisors provide safety training and information to workers.

Providing leadership in developing measures and practices that that prevent accidents and ensure compliance with OSHA standards. This includes:

continuously monitor the workplace for hazardous safety and health conditions.

Ensure safety and health hazards are corrected, eliminated or guarded.

Assessing engineering controls, administrative controls, and PPE on an on-going basis.

Assisting in the investigation of accidents. This includes:

Identifying hazardous situations that are associated with the accident.

Having the authority to:

Stop and prevent unsafe actions

Stop the use of unsafe equipment and tools.

Stop work and/or have employees leave a work area.

Investigating all close calls and other safety-related incidents that have occurred within the accident area.

Ensure the results of safety inspections are documented; monitoring the investigation of accidents and injuries; ensuring that corrective actions are taken; and providing recommendations for ways to prevent similar accidents.

Ensure that all accident reports are recorded in a timely, complete, and accurate manner.
Overall, the responsibilities of a safety manager include anything required to ensure complete compliance with OSHA standards, and for maintaining a safe and healthy workplace. What this means will be different in each workplace. At a minimum it requires familiarity with OSHA standards and implementing management practices to ensure compliance with those requirements
Improve Safety in Manufacturing Facilities with Good Signage
One of the critical responsibilities of a safety manager is to ensure that durable, clear and effective signs and labels are used. The best way to accomplish this is by using a label printer and tough-tested labeling supplies.
Note Safety Violations with Clear Tags
In order to keep employees and supervisors focused on the importance of safety in the organization, the safety manager should TAG ANY safety violations with different colored TAGS. When operations personnel see these TAGS, they must fill them out as to what action was taken to correct the safety violation and what will be done to avoid it the next time.
As Safety Manager, in one company where I was the man responsible for safety in manufacturing operations, I saw an ocean going container being unloaded without safety shoes being used by warehouse employees, there was no unloading dock, the forklift was not able to get into the 40 foot ocean going container and they used long rubber strips to move the pallets inside the container. Naturally the employees in this container jumped out to avoid the heavy tipping pallets, and the forklift was not maintained properly, and died several times while unloading this container. There were colored tags all over this UNSAFE operation. The Warehouse Manager had to write a Standard Operating Procedure (SOP) to eliminate these unsafe issues for the next 40 foot ocean going container that was due in the following week. This was a lesson on how NOT to practice Safety. Never take safety for granted!
From the desk of Adam Robinson, Marketing Manager, Cerasis Inc.
Google+
Intercept Technology Packaging products fit within a sustainability strategy because they are reusable, recyclable, do not contain or use volatile components (No VOCs, N
ot a VCI
) and leave a smaller carbon footprint than most traditional protective packaging products.