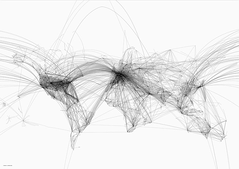 I have the black and white map (at left) hanging in my house. It is a digital map of all of the flights across the world over the course of one day. When I am feeling pensive I look at it and think how small the world can be and how quickly I can get, literally, anywhere. On the other hand, the colored map (below right) shows the trade routes of British (yellow), Dutch (green), and Spanish (red) from 1750 and 1800. It's amazing what 200 years can do.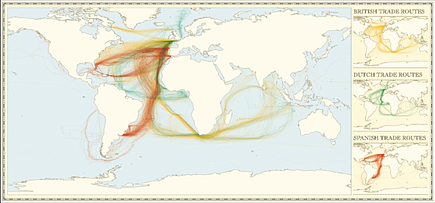 I write this as I am on a flight myself, racing hundreds of miles an hour over the very terrain that stopped the ill-fated Donner party, a group of American pioneers who became snowbound on a trip through the Sierra Nevada during the winter of 1846-47. A trip that once took almost half a year now takes less than five hours.
As I praise our advances, though, I must also admit that the demands of this mass transit system mount. In my line of work, I see parts coming out of production, which within 24 hours are in a completely different part of the world. This means that all the links in the global chain are forced to be creative and adaptive to accommodate whatever else the world can throw at them.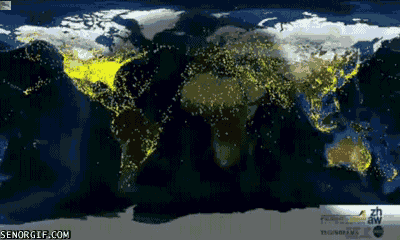 This is one of my favorite parts of the Intercept Technology packaging business. Intercept is adaptive and its protective properties work regardless of the environment. We have studies in circulation that pit Intercept against the wide range of climates and pollution levels found across the world. But, I find the most telling fact is that our customers use our products on all seven continents. We range from the heat to the arctic to the open country to the city, from the wet tropics to the dry deserts and everywhere in between.
This means our customers can rest easy knowing that wherever their products go they will be safe. Additionally, our customers save time and money because they only need one packaging procedure no matter where their products will ship. The last 200 years have shrunk the world and this pace is only quickening. Don't get left behind.
From the desk of Albert Greenhut, Director of Operations, EMI.
Intercept Technology Packaging products fit within a sustainability strategy because they are reusable, recyclable, do not contain or use volatile components (No VOCs, N
ot a VCI
) and leave a smaller carbon footprint than most traditional protective packaging products.