Prepare for the Worst
The 8 Questio

ns Manufacturers Must Ask
Current supply chain delays have been reported and discussed extensively by news outfits and logistics experts, with predictions that these delays will continue for much longer. The "just-in-time" philosophy is no longer in play. With this in mind, it's important to note: corrosive gases will always be in the ocean's atmosphere; the amount of time spent in transit, especially via ocean freight, increases exposure and can affect the reliability of your product.
For all types of equipment and components, ocean chlorides will attack all metals, including stainless steel and aluminum. As a resource, posted on our Liberty Intercept web site is a Nokia Bell Labs white paper: "Parts in storage or in shipment are particularly vulnerable. This problem is most severe for copper and silver, which react with H2S, COS, sulfur dioxide (SO2), and HCl. These trace gases are widespread."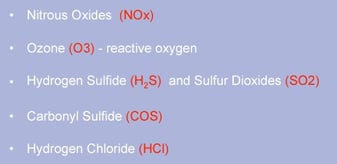 "Environmental protection must be given to products to ensure that the products retain designed reliability during global storage and transport. We have developed a strategy to mitigate these problems by the use of a [monolayered recyclable] Static Intercept packaging platform. This technology simultaneously protects equipment and components from corrosion, moisture, and ESD in a single packaging material." ~ John Franey and Dawn-Marie Sutton, Bell Labs
The Eight Questions:
What happens to the materials in your product when they have additional unexpected exposure to these corrosive elements?

Do your products have electronics in them?

In the last 15 years, RoHS and REACH EU Directives have outlawed the use of the "tried and true" coatings and lead-based solders. These newer electronics are more vulnerable when exposed to corrosive elements.

Is your packaging effective during these prolonged exposure times?

How much of its 'whole life' will your product lose with longer exposures to corrosive elements?

Will you find more defects than anticipated, not just on arrival but with latent defects?

The old 'Rule of Seven' states that latent defects are by far, the most expensive ones.




Can your product afford to have any defects?

Will there be annoying intermittent defects for you customer while they implement and operate your products?

And finally, what will be the monetary and brand loyalty costs when considering the four R's: Returns, Reworks, Rejects, and Reputation



It is our position that you must prepare for the worst, rather than just hoping for the best. Mitigate your risk.

Protect your products using mono-layered Static or Corrosion Intercept.
The "just-in-time" management strategy is no longer effective, due to current supply-chain delays.
Featured photo from iStock: The Port of San Pedro in Los Angeles CA with San Vicente Bridge in the Long Beach area with shipping containers stuck at harbor. Congestion at the Port of Los Angeles has been getting worse for months and shows no signs of letting up before the holidays. The port in San Pedro is the busiest it's been in its 114-year history as people buy more online than ever before.