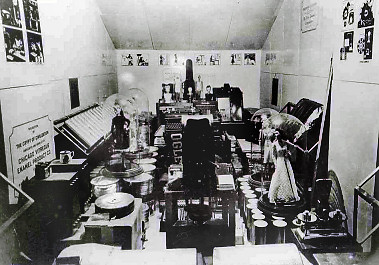 Under seven feet of stone, in the foundation of Phoebe Hearst Memorial Hall, lies a small pool-sized room filled with all of humanity's knowledge prior to 1940. The room is sealed shut with a welded stainless steel door which is not to be opened until 8113 A.D. This room is the Crypt of Civilization.
Oglethorpe University refounder and president Dr. Thornwell Jacobs conceived of the crypt while researching ancient civilizations. He found the lack of information available astounding and vowed to ensure that the knowledge and culture of his time would not be lost to future generations. He presented his plan in a November, 1936 issue of Scientific American magazine and then enlisted the help of photographer and inventor Thomas Kimmwood Peters. Peters and his student assistants spent the next four years working to make microfilm of 640,000 pages of the greatest works of mankind, including the Iliad, the Koran, the Bible and Dante's Inferno. They also captured voice recordings of political leaders like Stalin, Hitler, Roosevelt and Mussolini.
The project was well-received by the public and many people had suggestions for what should go in. Seemingly few were rejected as the list of items in the crypt is practically endless, ranging from Lincoln Logs to an ampule of Budweiser beer. However Jacobs was thoughtful in planning for the people who might unseal the door in 8113; not only did he include a wind generator to power the film reader and recording players, he also placed by the door an English-learning machine, in case English changes or dies out in the interim years.
The door was finally sealed during a ceremony in May, 1940, a year after Westinghouse Electric coined the term "Time Capsule" with their seven foot long buried capsule at the 1939 World's Fair. Since then Oglethorpe University has maintained the crypt and created the International Time Capsule Society to keep track of time capsules through out the world. Of course, knowing what we know now about pitting corrosion and its effects on stainless steel, we can assume that Oglethorpe will need to replace that door some time before the 8113, but only time will tell. Learn more about the crypt at Oglethorpe's Crypt of Civilization website.
Learn more about corrosion in this video: