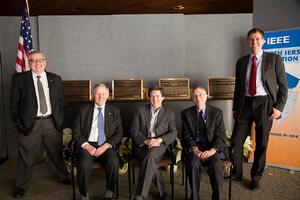 For the first time in the nearly forty year history of the IEEE Milestones program, the group gave four awards in one day to the same company. That company is of course Bell Labs, currently a subsidiary of Alcatel Lucent. President of Bell Labs Marcus Weldon (center of photo) was there to receive the four awards for communications theory and networks, wireless and satellite communications, digital signal processing and computing, and solid-state and optical devices.
The IEEE Milestones Program was designed to recognize "the technological innovation and excellence for the benefit of humanity found in unique products, services, seminal papers and patents" within the fields of electrical engineering and computer science. Over 150 Milestones dedications have been made, since the program's beginning in 1977, for innovations ranging from Allesandro Volta's development of the first electrical battery in 1799 to Sharp's 14-inch thin-film-transistor liquid-crystal-display for TV in 1988. However, no single company has been honored by Milestones the way Bell Labs was in January. And anyone who has any historical knowledge of Bell Labs would not be surprised.
No other company had more of a hand in shaping the technologies of today and of the future to come, than Bell Labs.
Bell Labs was originally set up in 1925 when Western Electrical Research Laboratories joined with engineers from AT&T to form Bell Telephone Laboratories, honoring Alexander Graham Bell, inventor of the telephone. Originally designed for the support of telephone companies, Bell Labs eventually branched out into various fields of research and development. Throughout the twentieth century, Bell Labs was the premier R&D center in the world, developing the technologies we take for granted today. The transistor, the laser, and some of today's most used programming languages, among so many other inventions, came out of Bell Labs. Intercept Technology Packaging was also a Bell Labs innovation.
Of course, Bell Labs and its engineers have been receiving awards since the beginning. Twelve Nobel Prize Laureates, nine Medal of Science winners, four Turing Award Laureates and many other prize winners have worked for Bell Labs in its history. Even IEEE has given 23 Medals of Honor to Bell Labs engineers over the years. These four Milestones awards are set apart from any of the individual awards, however, because they summarize the importance of the entire company over such a long period of time. No other company had more of a hand in shaping the technologies of today and of the future to come, than Bell Labs.
Intercept Technology Packaging products fit within a sustainability strategy because they are reusable, recyclable, do not contain or use volatile components (No VOCs, Not a VCI) and leave a smaller carbon footprint than most traditional protective packaging products.