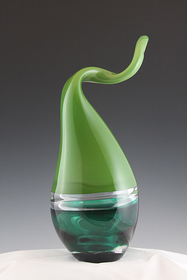 For well over a year, my brother-in-law Spencer has immersed himself in the artistic glass industry. Spencer works, plays, talks, studies, teaches, and I'm sure dreams glass. He has gone to glass work camps and seminars, where he has met and worked with some of Americas most renowned glass artists. Though in the field for a relatively short time, intellectually curious Spencer is one who will learn as much as can absorbed about a particular topic. He recently made the comment that American glass makers are some of the best in the world. European glass artists may have the name and reputation, but the American artists are making very creative pieces as well. Spencer is from Britain and in the 10 years I've known him, has shown a healthy pride for the European side. It was kind of him to share his new found deep respect for this particular American craft.
As the sales director for Liberty Packaging, I have had the great privilege to work with American flat glass manufacturers making coated glass for use in the building trades. Energy efficient architectural glass is important and the coatings used on this type of glass contain metals. Prior to final assembly of the building glass, those coatings should be protected from corrosion and staining in shipment and storage, thus the need for our Intercept Technology protective packaging.

In my work, similar to Spencer's experience with the glass artist, I have found that the American flat glass companies manufacture some of the highest quality glass in the world. The basic concepts of making glass are the same for the artist as for these glass companies. They work with extremely high heat and are handling fragile items, which can be dangerous work if care is not taken. For highest quality, the business requires tough, diligent, and passionate individuals doing the work in glass, whether for art or for industry.

Glass art seed vase and photo by Spencer Kirk-Jackson.
Intercept Technology Packaging products fit within a sustainability strategy because they are reusable, recyclable, do not contain or use volatile components (No VOCs, Not a VCI) and leave a smaller carbon footprint than most traditional protective packaging products.