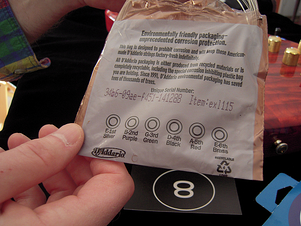 When choosing packaging materials to wrap industrial items, a manufacturer must decide what the chosen packaging material does for them. Treat this packing materials choice like any other purchase for the business or home - what benefits will you receive from the product and will it provide the value you anticipate.
Based on customer feedback, here are six categories in which sound packaging material choice can aid your company:

Supply Chain Safety Net –Your carefully manufactured product may need to be shipped to and stored in difficult climates. Can the packaging material you have selected address the problems that may be encountered? Uncontrolled storage conditions, customs inspections, customer inspections, rough handling, shipping methods, unforeseen delays; all are challenges that your packaging should resolve.
Manufacturing Process Expense – Can your company's internal packaging supply the proper protection for inventories? How much space is needed to apply packaging for shipment? Do you always need to repack after inspections or for steps in your manufacturing process? Time and space, as well as expense, are necessary considerations for evaluation.
Labor Expense – Some packaging is difficult to apply, especially if your product is big and bulky. How long does it take? Do your chosen packing materials volatize and particle shed? Many of the protective packaging materials do, that is how some work. Inhaling and touching volatiles is not always healthy and may increase employee absenteeism. Is it fair to ask your laborers to handle and breath volatiles all working day?
Protecting Brands – Besides the obvious concept that your brand is tied to your product quality, packaging is one of the first impressions a customer will have of your company and your product. Does the packaging meet the standards your company represents? How can your packaging enhance your own brand?
Global Citizen – It is important for companies to be environmentally concerned; it is rightfully a large focus for many on this planet. Are the packing materials that your company uses recyclable or are they directed into a dumpster, then to a landfill? Is the packaging protection adequate so your product does not become defective or require rework? Defects and reworks have been proven expensive in both dollars and carbon footprint.
Cost of Goods Reduction – Maybe the application and removal of protective oils can be eliminated from your process. This has been proven by some companies to cause a significant decrease in cost of goods expense.

Take the time to run this litmus test on your packing materials. Packaging is very important in today's business world; evaluate whether your packaging helps your company. If some or all of these categories are improved, your company's cost of goods can be reduced and your company made more profitable.