"The first step to change is awareness. The second step is acceptance."
~Nathaniel Branden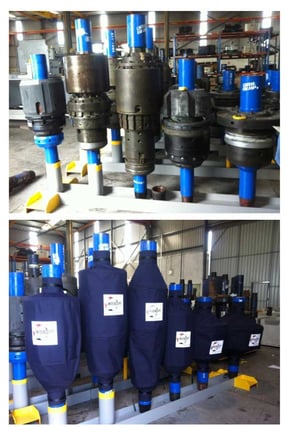 Supply chain problems seem to occur often and without warning these days. Currently it's the auto workers strike and the Panama Canal cargo vessel backlog, due to low water levels. In the very recent past, lack of labor on the west coast docks caused major delays and some freight was diverted to eastern harbors temporarily. Labor shortages continue to impact many industries, including rail, trucking, and manufacturing, causing continued challenges and delays.
Because of the unpredictability of these obstacles, flexibility and product security are now of utmost importance. Once your product leaves your hands, you have lost control of it, to a large degree. Flexible Intercept Technology packaging films and Intercept reactive foam can help. We have many solutions to make your life less uncertain in this regard. Below are some situations in which Intercept has solved challenges for manufacturers worldwide:
If your shipment is stalled during ocean transport, Intercept protection keeps products clean and safe for long term protection.
If the shipment is stuck in a warehouse, no problem, Intercept protection solves that concern, so there's no loss of quality to your product.
If there is inventory to be stored, whether planned or unplanned, using Intercept protection will keep it as pristine as when it was originally wrapped.
If your business is contracted or required to store parts, Intercept protection is the best, including if environmental packaging materials must be recycled or reused.
When outdoor storage of equipment works best, wrap in Intercept tough heavy-duty barrier films for high-quality and reliable protection.


Covers + Liners + Inserts
Custom designs available. Sewing or heat sealing.
Let Liberty Intercept help you chose the best Intercept material for your situation.
Closures can include heavy duty zippers, Velcro, and tapes.
Custom kitting is available for your specific application.
Shrink wraps and shrink services are available.
We've got you covered!