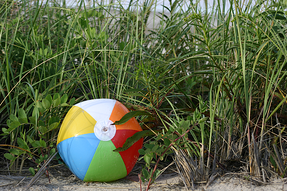 We can talk about better packaging, shipping and storage, and decreased carbon footprint any day. It's summer, and I'd like to share something different, a more personal story:
My wife and I were on one of my favorite beaches recently, Nantasket Beach in Hull, MA. My fondness is based not only on memories of lifeguarding Nantasket in the mid to late 70s, but also because it's a public beach where on any given hot day, thousands of sunbathers will visit, so it has a bit of a honky tonk edge. You can people-watch all day long at Nantasket, observing all sorts of characters and the interplay between fellow sun worshipers.
As I listened to the surf, the realization crossed my mind that I was able to hear the small waves breaking. Even with all the people there, the beach was relatively quiet. When I was lifeguarding the beach was much noisier, like a party going on all the time. On that beautiful beach day last week, what I missed was the music.
I remember patrolling my station up by the rocks and hearing the same songs or the ball game coming from multiple blanket boom boxes. Songs such as "Dream Weaver" by Gary Wright and Queen's "Bohemian Rhapsody" were blaring all across the beach. It was easy to be influenced to like a song when a pretty girl in a bikini was moving gracefully to "You Should Be Dancing" by the Bee Gees.
With iPods and headphones, there is little music being shared by listeners; their music collection is their own. Some might say that the noise reduction is welcome, but not me. I miss the sharing. Some songs played may be irritating to my taste, but that also helps to define what I like and don't. I'm told now that Twitter and Facebook are the means of sharing likes and dislikes; I don't tweet so I wouldn't know. Typing on a computer doesn't feel like sharing to me.
What's your take?
Intercept Technology Packaging products fit within a sustainability strategy because they are reusable, recyclable, do not contain or use volatile components (No VOCs, Not a VCI) and leave a smaller carbon footprint than most traditional protective packaging products.