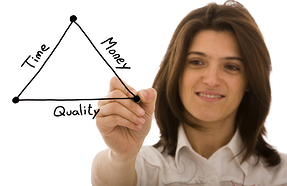 Over the course of several chats with the head of the Intercept Technology Group, Keith Donaldson (video series to be released soon), we learned about the groundbreaking work of Dr. W. Edwards Deming, an American statistician, professor, author, lecturer and consultant. Dr. Deming had many skills, including electrical engineering, playing the drums, singing, and writing sacred music. His legacy is impressive, especially his work developing new quality control protocols for manufacturing.
Deming was raised in Iowa and his education included a BSc in electrical engineering from the University of Wyoming, as well as a Masters degree from the University of Colorado and a PhD from Yale. Both advanced degrees were in the field of mathematics and mathematical physics. He worked as a mathematical physicist for the United States Department of Agriculture and later was a statistical advisor for the United States Census Bureau.
Dr. Deming's contributions to society are many, but his work in Japan became the basis for new innovations in quality control, leading to a complete turnaround in the value of Japanese manufacturing. At the end of World War II, Deming was invited to Japan to consult, and challenged Japanese engineers and industrial leaders to change the world perception of Japanese products from that of cheap imitations to desirable quality products over the course of five years. Using Deming's principles of quality management, Japanese industry accomplished the task in just four years.
Dr. Deming's words from The Deming Institute website state, simply, his view of quality: "We have learned to live in a world of mistakes and defective products as if they were necessary to life. It is time to adopt a new philosophy in America." His teachings in the field of quality, economics, and management include this list relating to the transformation of management, from his book "The New Economics":
Set an example

Be a good listener, but will not compromise

Continually teach other people

Help people to pull away from their current practice and beliefs and move into the new philosophy without a feeling of guilt about the past
Deming understood that fear could cause people to act in a way that may not be in the best interests of high quality, whether in classroom, factory, farm, or office. Perhaps this scenario from his book "Out of the Crisis" sounds familiar: "Fear invites wrong figures. Bearers of bad news fare badly. To keep his job, anyone may present to his boss only good news."
The non-profit W. Edwards Deming Institute was founded by the man himself in 1993 and continues to educate using the teachings of Dr. Deming. From the Institute: "The aim of The W. Edwards Deming Institute® is to foster understanding of The Deming System of Profound Knowledge™ to advance commerce, prosperity and peace."
A final gem from Dr. Deming: "Put everybody in the company to work to accomplish the transformation. The transformation is everybody's job."
In a related article, popular marketing expert Seth Godin (Linchpin) defines quality here: Seth's Blog - Defining quality
Intercept Technology Packaging products fit within a sustainability strategy because they are reusable, recyclable, do not contain or use volatile components (No VOCs, Not a VCI) and leave a smaller carbon footprint than most traditional protective packaging products.