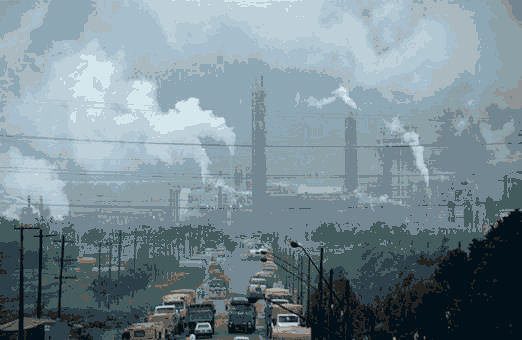 From guest poster Albert Greenhut, of Engineered Materials, Inc.
Those who have followed my writing may have the inkling that I am fairly green-minded. I base my beliefs on many issues upon my ideas about how life should be lived as a member of the world community, including taking responsibility for your actions and showing respect toward others.

For my entire life I have thought of Los Angeles as the pollution capital of the United States of America. This has to do with the timing of the rise of the automobile and the city planning of LA itself. Cars were becoming popular and room for trains got squeezed out of the planning, leaving what was soon to become one of the world's largest cities without much potential for public transport.
The good news is that, since 1980, levels of ozone have decreased by 60% in Los Angeles (and by 25% nationally). This is incredible; in 30 years we have changed priorities and habits, and have been able to work on a major problem, the state of the environment in, arguably, the most important economic hub in the United States. (Personally I am happy because it may reduce the possibility of spillover into some of my favorite national parks and habitats).

America has set a priority of keeping its environment clean; we have endured the expense of it and we should be able to enjoy the benefits. This is why when I came across this article: A Cost Effective Way to Cut Smog I was distraught.

The article explained that further regulations would not be worth the effort or expense because much of the West Coast's pollution is not created internally; rather it is being carried from Asian countries. This one fact violates two of my most important principles. First, if a country's pollution stayed within its own borders, each country could decide what is important and can do as it sees fit, whatever that might mean. Unfortunately that is not the case. The second rule, focusing on respect, is also violated. The combination of both of these offenses, in this context, amounts to the fact that we cannot control our own environment and we are not receiving any compensation for the damage that is being done.

It has been seen that government pressure in the form of added costs can work to influence the environmental impact of companies. We should imitate this pressure and apply it to China, Thailand, Vietnam, etc. This way we can maintain influence over what happens within our boundaries. This also goes along with what the ITG has talked about for years, that pollution is increasing and spreading across borders, and that it is these pollutive gases that are attacking not only people, but also the items that we manufacture, ship and store, putting more stress on them to be protected properly. We will be happy to discuss better protective packaging schemes for your items. Let's all get more involved.
Intercept Technology Packaging products fit within a sustainability strategy because they are reusable, recyclable, do not contain or use volatile components (No VOCs, Not a VCI) and leave a smaller carbon footprint than most traditional protective packaging products.