Today's post by intrepid and well-traveled blogger Albert Greenhut of Engineered Materials Inc., Chicago, IL
Kimberley, South Africa (home to the original DeBeers mine) was the second city in the world to have electricity, first installed in 1881. South Africa, more specifically Johannesburg, is now in an interesting position regarding electricity.
Fast forward to today. South Africa is the biggest consumer of electricity on the African continent, at 215 billion kWh (kilowatt hours) consumed each year, twice as much as Egypt consumes, 104 billion kWh, as of 2011. With an ever growing population and the biggest economic engine in Africa, these demands are surely on the rise.
If you were a South African official in charge of supplying energy, now and moving into the future, you'd have a big decision. You could either import your electricity or produce it domestically. Which would you choose?
The advantage to importing it is that you could pay a lower cost to have it produced elsewhere. The down side is where would you have it produced? Think of the countries surrounding, or surrounded by, South Africa; Lesotho, Swaziland, Mozambique, Zimbabwe, Botswana, and Namibia. For the argument based on cost of producing electricity this is very compelling evidence to export the energy production. You could pay workers in Mozambique a fraction of what you would have to pay them in South Africa for the same job. The down side is reliability. My intention is not to speak ill of these countries, but in all honesty I do not know if I would want to trust my country's energy production to anyone else. In addition to that, the initial cost of building the wires to transport the energy and the amount you might lose in transit is important. Again I do not mean to smear the names of these countries. I have visited and enjoyed all, but for the future of South Africa's energy needs, I must be practical and responsible.
Given the evidence, I think you will be led to the same conclusion that South Africa has been, domestic energy production is the way to go. With that in mind, ESKOM, South Africa's public electricity utility company, produces about 95% of the country's electricity domestically (as well as extra for export). South Africa only imports about 10 billion kWh annually, as of 2011, supporting that ESKOM generates about 95% of the country's domestic requirement.
I mentioned earlier that Johannesburg is in an interesting position when it comes to electricity. Johannesburg is the biggest South African city and it is the country's and continent's economic powerhouse (no pun intended). With those two important pieces of information in mind think about the geography of the city. Johannesburg is not only Africa's most important city, but is the largest city in the world not situated on major body of water. With 10 million people in Johannesburg's metropolitan area who depend on electricity, I dare say that Johannesburg is the city that depends most on electricity.
After establishing South Africa's energy choices and demands, I would like to say I am proud to be part of Engineered Materials who has assisted in South Africa's commitment to being an independent and reliable source of energy.
In the production of energy, it is important make spare parts for energy-producing machinery. That way you can quickly fix generators without forcing cities, hospitals, and citizens live without electricity. It is not only important to make critical spares, but it is important to keep them in pristine condition and close at hand. This is where Engineered Materials is involved. We use Intercept Technology to prevent corrosion and degradation. Rhino Plastics was approached by ESKOM to provide a long term storage solution for some of their new turbines. This was no small feat.
The pictures provided show the size of the turbines, but fail to show how much surface area there is on all the individual rotors. Additionally, one of the requirements on this storage is that the pieces need to be stored for 20+ years. Many corrosion inhibitors depend on being within a close proximity to the surface they are protecting. In this case, the rotors and the magnitude of surface area would have made that impossible. Competitive products cannot guarantee that their protection will provide such longevity.
Intercept can protect against corrosion for a very long time.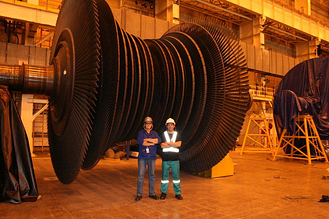 When it comes to the needs of an organization protecting such an important asset, the largest electrical turbine in the southern hemisphere, I feel honored that Intercept was chosen.
Intercept Technology Packaging products fit within a sustainability strategy because they are reusable, recyclable, do not contain or use volatile components (No VOCs, Not a VCI) and leave a smaller carbon footprint than most traditional protective packaging products.