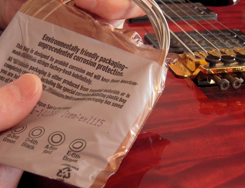 ....because for a guitarist, touching strings is personal.
If you have been in the music equipment business for any length of time, you may know of the copper Corrosion Intercept string bag pictured at left. Intercept Technology is a Bell Labs innovation which protects products from rust and corrosion, mold and mildew, and static charges. Intercept enables this protection while not releasing any volatile chemicals. Your products inside Intercept will remain fresh and your customers and employees are assured not to have complex chemicals on their fingers from playing your strings or in their lungs from inhaling.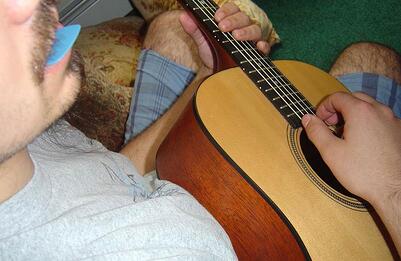 Not just for strings protection, Intercept is being used by companies in many industries across the globe to protect their hard-earned products; electronics, chassis, finished goods, collectibles, all metals, lacquers, woods, papers, fabrics, plastics, anything that would degrade is safe inside Intercept protection.
Intercept allows companies to:
safely expand their markets, including countries with harsh atmospheric environments.
ship overseas instead of expensive air shipments
offer its customers packaging that can be recycled
expand productions runs for efficiency
reduce or eliminate protective oils in shipment or in-process.
Let's also discuss the advantages of implementing Intercept packaging to eliminate others from counterfeiting your product and brand.
Intercept Technology Packaging products fit within a sustainability strategy because they are reusable, recyclable, do not contain or use volatile components (No VOCs, Not a VCI) and leave a smaller carbon footprint than most traditional protective packaging products.