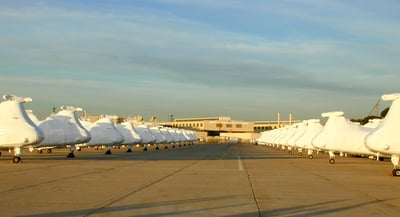 In a recent conversation, a prospect looking at our web site saw the picture of the efficiently barrier-wrapped helicopters for storage and commented that "this barrier packaging may be too much" for them. In sales and marketing, that is one of the problems with showing the most impressive applications! Folks may think that they are priced out of usage, but in most instances, that is not the case.
Sure, the visual of the wrapped helicopters lined up in rows is impressive, but let's take it from a different perspective. One must differentiate between the simple protection of materials, as opposed to the protection of the myriad assembled materials that constitute a sophisticated flying machine. If the products you make have one or more of these materials, your products may be worth protecting with an environmentally preferred, safe, and optimal packaging. When considering total cost assessment you find this packaging can fit into a budget and even create savings to your company's cost of goods, you have a big win.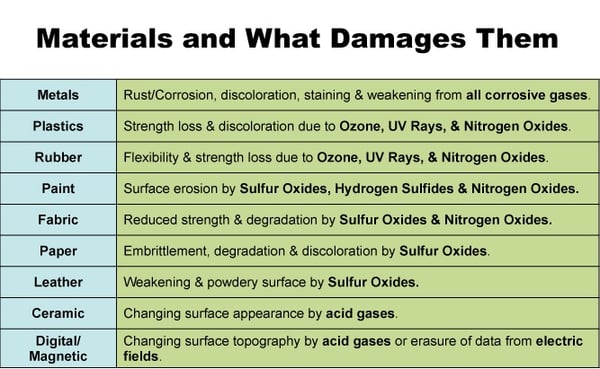 The helicopter will run the gamut of materials; metals (ferrous and non-ferrous), some may be exposed in some manner, some painted for protection, but consider that paints degrade also, they are thin films. Rubber, certainly with gaskets and tires, sophisticated electronics which will include ceramics, and optics, probably polymeric film coatings on these sensitive pieces, plastics, leather, fabric, oils, glass, and more, are all incorporated in the construction of the helicopter. Each of these materials will degrade with atmospheric exposure, some more quickly than others. Many of the materials will last longer than the projected life consideration of the product, but a product is only as good as its weakest link.
A product is only as good as its weakest part.
Placing a packaging barrier wrap around your product is like placing a skin around it for when it is in its most vulnerable state; handling, shipping and storing. Keeping atmospheric pollution off your product with barrier packaging is an easy solution to maintain quality for its intended life cycle. The shrink wrapping work done for the helicopters in this situation may not make sense for your operation and your product, so let's discuss a barrier packaging plan that works for your situation.